Our school emblem
A cross in the shape of an X
The cross on the left-hand side of the badge reminds us of St Andrew, who is the patron saint of our school.
St Andrew was born in Galilee, the son of a poor fisherman. He and his brother Simon Peter followed their father's trade. St Andrew became a disciple of John the Baptist but later he and Peter joined Jesus to follow Him faithfully until His death.
It was Andrew who introduced Peter to Jesus, and it was Andrew who found the little boy with the loaves and the fishes.
After the crucifixion of Jesus, Andrew is said to have travelled to many lands – Greece, Russia and Poland.
St Andrew was martyred in Patras on an X-shaped cross.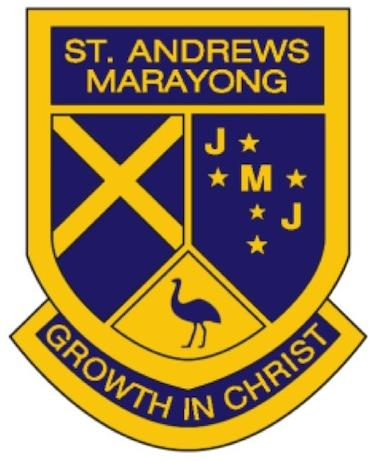 The letters JMJ
On the right-hand side of the badge we see the letters JMJ. These letters stand for Jesus, Mary and Joseph, who make up the Holy Family of Nazareth.
The Sisters of the Holy Family of Nazareth founded the school on the present site in 1965. Mary of Jesus the Good Shepherd, the foundress of the congregation of these sisters, described her congregation as one whose members would model their lives on the hidden life and virtues of Jesus, Mary and Joseph, the Holy Family of Nazareth.
Five stars
The five stars are the stars of the Southern Cross – a famous group of stars seen from the Southern Hemisphere. It is also called the Crux, which is Latin for cross, formed by its four brightest stars.
The emu
Another symbol on our badge is the emu. The emu is the largest bird in Australia. It is two metres long and two metres tall, has a large bill and long, dark, greyish-brown, downy feathers and a white ruff. The emu cannot fly but runs at a speed of 50 kilometres per hour. Its powerful legs are also used for kicking and swimming. It feeds on grass, fruits, vegetables and insects.
Emus used to live throughout Australia, but they have been driven into open country away from settlements.
As we sing in our school song, Marayong is a place where emus did abound. Emus are unable to walk backwards and is a symbol that St. Andrew's primary is always moving forward.
---
Our school motto
Our school motto is 'Growth in Christ' which is also depicted on our school badge.
Love of God, love of self, love of others, and love of learning help us to grow in Christ.
And together we'll strive to 'Grow in Christ', as our motto says, spreading peace, harmony and love each day, throughout the world.