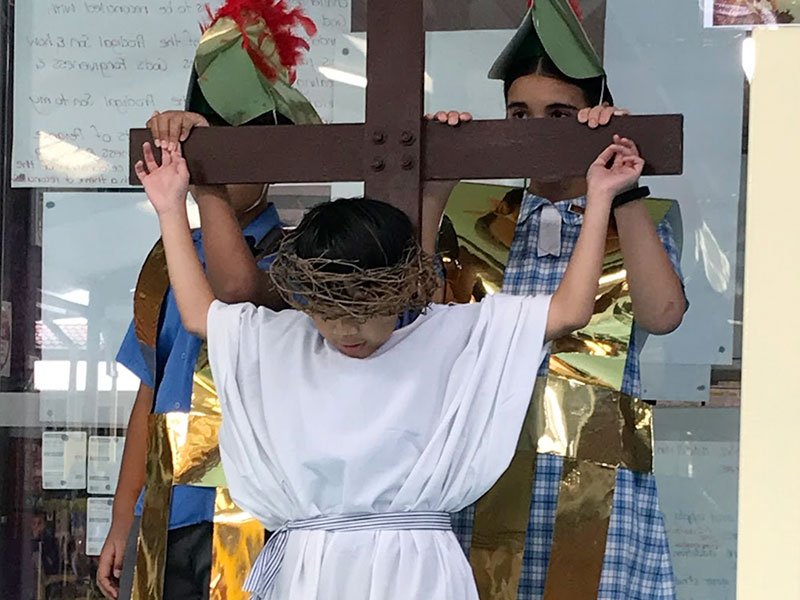 Sacred Heart Primary School, Mount Druitt reflected on the Stations of the Cross by using mime, music and prayer to imagine the scene in Jerusalem
As schools were finishing Term 1, some took the time to reflect on the meaning of Easter and the story of Jesus' ultimate sacrifice.
Two schools in particular, St Andrews Primary School, Marayong and Sacred Heart Primary, Mount Druitt, focused their reflection time on the Stations of the Cross.
Sacred Heart Primary Religious Education Coordinator Joanne Potts said the school community prayed the Stations of the Cross together as part of its Lenten devotions. At each station students and teachers reflected prayerfully upon Jesus suffering, death and resurrection.
"Participants used mime, music and prayer to imagine the scene in Jerusalem as Jesus walked his Way of the Cross. Year 6 did a wonderful job of concluding the devotion with an inspiring rendition of the song Above All by Fr Rob Galea, which they recently learned at the Lifted Live event hosted by Catholic Youth Parramatta," Mrs Potts said.
At St Andrews Primary, Year 5 teacher Judith McMurrich said this was the first year the school had done a tour through the 14 Stations of the Cross. At each station, students were allowed up to five minutes to read a prayer and think about what that meant to them.
"We were able to use our new playground area in such a special way so that the students could reflect on the true meaning of Easter," Mrs McMurrich said.
"It has been especially timely for Year 5 as they had just done their unit on Holy Week, so this reflection time was able to bring all their learning together,'' Mrs McMurrich said.
---
Gallery
Photos from St Andrews Stations of the Cross tour and finished off with a photo from Sacred Hearts Primary Schools dramatic interpretation.